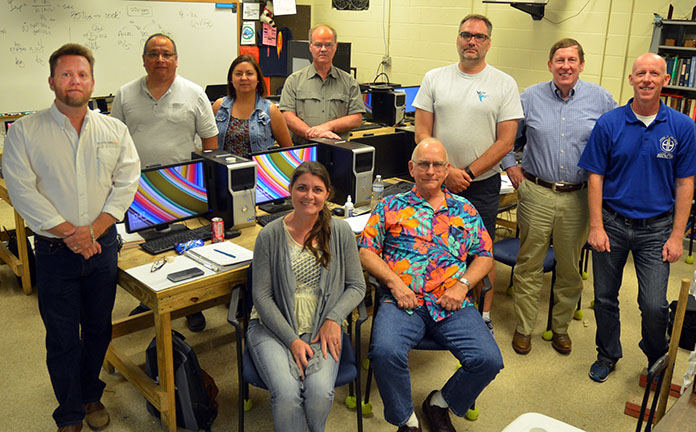 June 2017–Seven high school teachers spent the week of June 19 at Fredericksburg (TX) High School learning how to guide students in designing, building, and launching a rocket that could go to the edge of space, as part of the SystemsGo aerospace program.
The teachers were Manny Moreno, Fabens High School; Julieta Banuelas, Fabens High School; Dale Hobbs, Brazosport High School; Leslie Alexander, Marble Falls High School; Bob Housty, Birdville Center of Tech. & Adv. Learning; Michael Skrzynski, Buinger CTE Academy; and Richard Griffin, Hollenstein High School.
SystemsGo Founder Brett Williams led the workshop. Co-presenter was Chris Madsen of NASA's Johnson Space Center.
"I love this program, working with the students and working with the teachers," Madsen said. "Building a rocket is great, but if the students don't understand the math and science behind it they are missing a lot of the benefit. So we teach the fundamentals to these teachers so they can answer the students' questions."
SystemsGo is an innovative high school STEM (Science, Technology, Engineering, Math) curriculum developed at Fredericksburg High School in the 1990s. Using project-based instruction, over four years students progress from drafting, CAD, and engineering design, to building rockets designed to progressively travel a mile high, reach the speed of sound, then go as high as 100,000 feet.
The Goddard level training is geared toward schools that travel to White Sands Missile Range for their launches designed to carry a scientific payload to the edge of space. There are currently 15 Texas schools qualified to attempt the WSMR flights.
This summer's launches are scheduled to take place before the end of June. The teachers in this training would be eligible for launches in the summer of 2018.