On Sunday, Nov 6, 2022, the entire SystemsGo team was invited to attend an exclusive viewing of Good Night Oppy, the documentary about the Mars rover, Opportunity, which was designed to survive 90 days on the red planet and thrived for 15 years.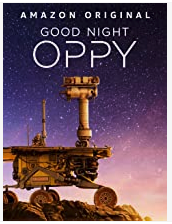 It was created by Steven Spielberg's Amblin Entertainment, Amazon Studios, Industrial Light and Magic, and Director Ryan White.
The preview event was hosted at Alamo Drafthouse in Austin by Steve and Kelly Sosland. Their daughter, Bekah Sosland Siegfriedt, is a 2008 graduate of Fredericksburg High School and an alumnus of the SystemsGo program who now acts as Mission Operations Systems Engineer for the Mars rover project. She is also featured in the film.
"This film is not only a gift to all the people who operated Opportunity," said Bekah, "but to the entire world!"