SystemsGo Events
In the spring of 2018 we will launch more than 150 rockets at three launch sites in Texas and New Mexico. The public is welcome to attend and cheer on our SystemsGo students as they launch the vehicles they designed and built.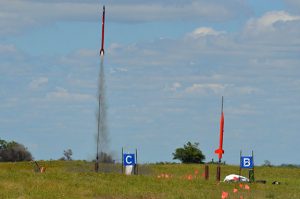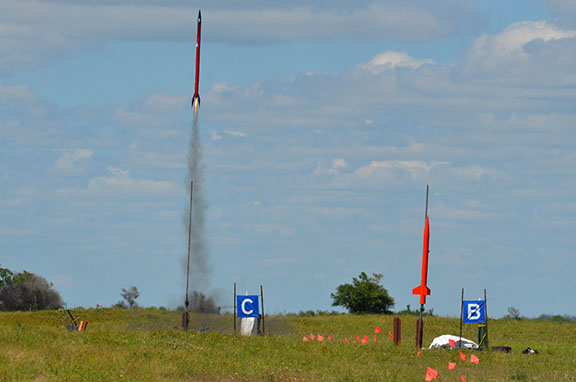 WHEN
New Mexico Launch: Saturday, April 21, 2018
Launch Schedule New Mexico PDF
Jal Launch Timeline of Events
Houston Launch: Friday, May 11–Sunday, May 13, 2018
Launch Schedule Houston PDF
Fredericksburg Launch: Thursday, April 26–Saturday, April 28, 2018
Launch Schedule Fredericksburg PDF
Rockets launched all day. Schedules vary due to weather, student readiness, and other variables.
WHERE
New Mexico Launch: In vicinity of Jal, New Mexico [Map Jal PDF]
Houston Launch: South of Anahuac, Fire Station and launch site near Smith Point, Texas [Map Houston PDF]
Fredericksburg Launch: Fire Station & Stewart's Hillview Ranch, located north of Fredericksburg in Willow City, Texas [Graphic Map Fredericksburg PDF] [Google Map Fredericksburg PDF]
WHY
The SystemsGo Aeroscience program started in Fredericksburg High School in 1996 under the direction of teacher Brett Williams. The innovative SystemsGo Studies science, technology, engineering, and mathematics (STEM) curriculum uses inquisitive learning based on a problem and project-based model to invoke and stimulate skills in design, development, testing, analysis, and innovation.
The student teams design and build 8-foot and taller rockets. First-year students attempt to send a one-pound payload one mile high. Second-generation projects send rockets past the speed of sound.
HOW
Visit SystemsGo.org for information and directions.
All launches are open to the public and free.
However, all attendees must sign a waiver for access to the site.
Go Here: https://www.greateventseats.com/SystemsGo
Passes can be obtained online in advance (preferred) or at the gate.
www.systemsgo.org • info@systemsgo.org • 830-997-3567
OTHER
Fredericksburg and Houston launches will be streamed live online. Links will be posted prior to launch days.